Almost everyone who likes soldering has heard of the Weller company and its reputation for quality. The WES51 is one of their most popular products, used by thousands of happy customers. In expert opinion, it is mostly chosen because of its quality and long lifespan.
Customers have been using the product for over a decade, and there have been no issues. The design is simplistic, which might be why it is so durable. Not only is the design easy to use, but everything else about the product is as well – from replacing tips to adjusting temperatures .
Overall, the Weller WES51 is a great choice for those who are looking for a durable and easy-to-use soldering station for all their precision soldering needs.
Specifications
The weight is 4 pounds;
The dimensions are 11.42 x 8.82 x 4.25 inches;
Corded electric power source;
The wattage range is up 50 Watts;
The package includes a power unit, soldering pencil, stand, and the sponge;
The voltage is 120 V;
Tip temperature offset;
Non-burnable silicon rubber cord;
Foam-grip pencil;
Variable temperature controls;
ESD safety;
Automatic shut-off technology after 99 minutes;
The soldering temperature is adjustable from 350 to 850 degrees Fahrenheit;
Compatible with Weller ET series tips;
LED mode;
UL/CUL listed;
Completely free of stored static charges;
Limited 1-year warranty;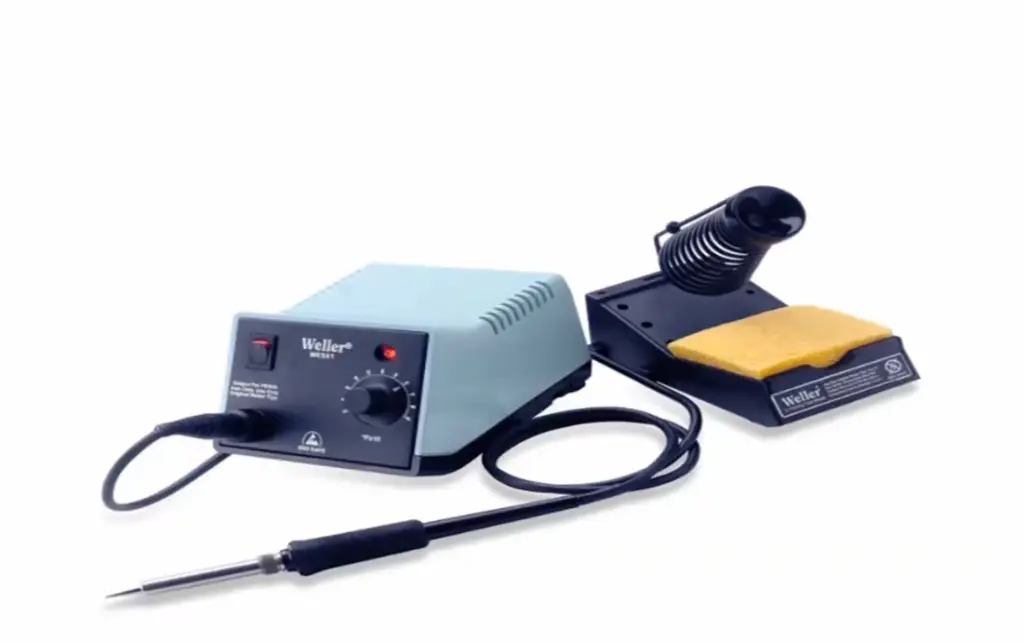 Design
With 50W of power, this station can handle any soldering task you throw at it. Some tools boast a high wattage, but that's not nearly as important as the other features this model offers. With 50W, it heats up quickly – one of the fastest heat-up times on the market. You can set the temperature between 350-850ºF with +/- 9ºF precision using the easy-to-use interface for accurate setting and display reading in either °C or °F modes.
The soldering pencil is also very thick and durable – nearly indestructible except for damage from use with incompatible tip models such as those from ET Weller series tips.
WES51's design is sleek and simple – you might even say it looks minimalistic. And while a common worry with such designs is safety, you can rest assured knowing that this tool is as safe as they come. ESD-safe technology protects the device, made specifically by Weller. If you forget to turn off the device, no problem – it will automatically deactivate after 90 minutes. With WES51, your tips will last as long as possible!
However, there are a few downsides to this product that you should be aware of before making your purchase. Firstly, the Weller WES51 is an analog soldering station, which means it doesn't have the same digital precision as some of its more expensive counterparts. Secondly, it's a fairly bulky and heavy piece of equipment, so it might not be the best choice for those who are looking for a more portable soldering station. And finally, the customer service from Weller has been known to be not very responsive, so if you run into any problems with your unit, you might be out of luck.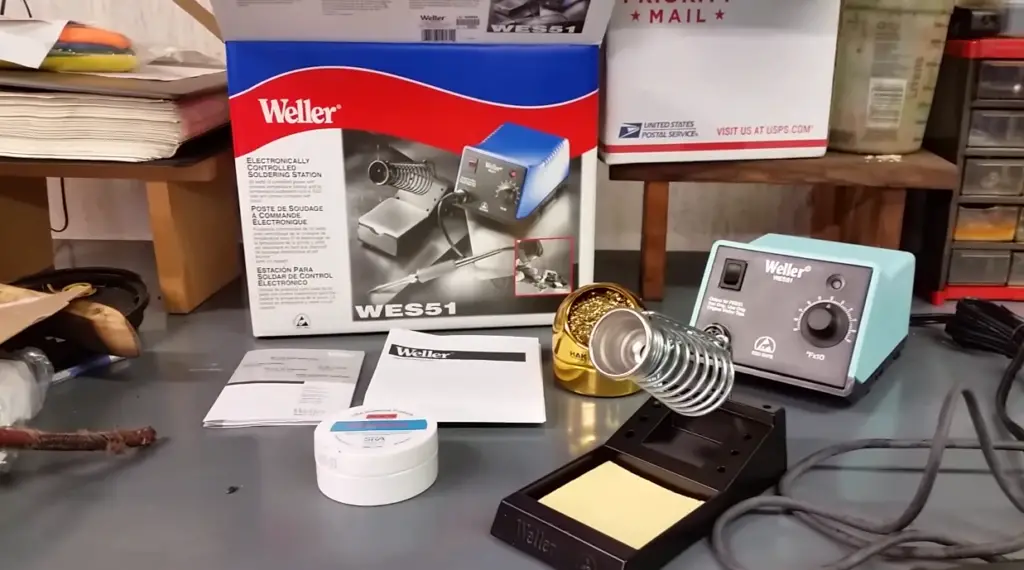 Performance
The lightweight tip and handle are designed for comfort during extended use, and the tip can be changed to a variety of compatible options. You can also easily reset the temperature to fit each tip being used. The unit uses up to 120 volts and has precise temperature control. If it goes without being used for 99 minutes, it will automatically shut off as a safety measure to help protect you and save the life and longevity of the unit itself.
The temperature lockout feature prevents you from accidentally choosing a too-high setting for your project, and the LED light lets you know at a glance if the unit is locked or unlocked, as well as what mode it's currently in. This saves time and ensures that the job is done correctly.
The Weller analog soldering station uses a unique heater and sensor combination to heat up quickly while also maintaining a consistent temperature. The wireless temperature lockout feature prevents operators from raising the temperature above what is safe for the board or component, giving you more control over the process. To save power and prolong tip life, the station automatically powers down after 90 minutes of inactivity.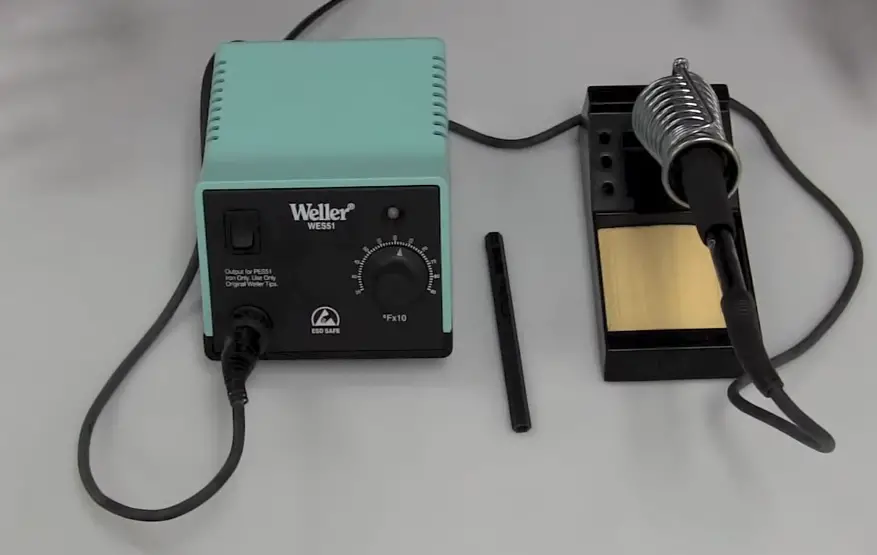 Pros:
Slim and easy-to-use pencil for reduced fatigue;
Durable;
The automatic temperature control to prevent excessive overheating;
Automatic shut-off/sleep mode after 99 minutes of inactivity;
Quick heating up and recovery – up to 30 seconds;
Different tips are compatible;
ESD safe
LED with information;
Long tip life;
Easy to repair;
Cons:
Analog, not digital;
Expensive;
Heavy and bulky;
Not user-friendly design;
Doesn't include extra tips;
Limited warranty;
Not rust-resistant;
Poor customer service;
Many counterfeit products out there;
If you're looking for a professional-grade soldering station that will help you with all your precision soldering needs, look no further than the Weller WES51. This soldering station is beloved by professional hobbyists and electronics enthusiasts for its durability, easy-to-use design, and automatic temperature control features that prevent overheating. With a quick heating time of just 30 seconds and a longer tip life, the Weller WES51 is a versatile and reliable tool that will help you complete all your projects with ease.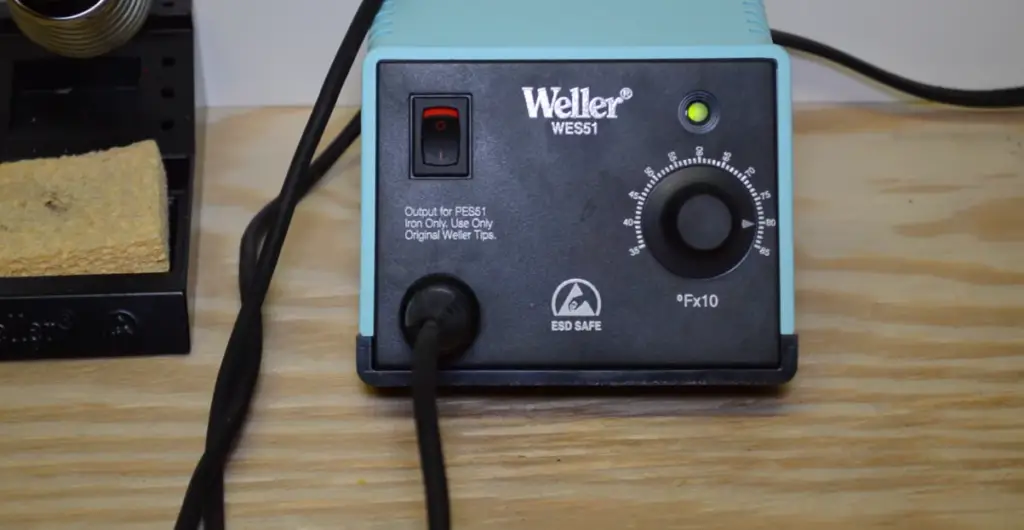 Main Features
Heating Element and Temperature Control
The station also features an adjustable dial, allowing the user to easily adjust and maintain desired temperatures.
Ease of Use
The WES51 includes a built-in holder for the soldering iron, making storage and accessibility convenient. It also has an on/off switch with a power indicator light, ensuring easy operation.
Durability
Made with high-quality materials, the WES51 is designed for long-term use. It also features a cushioned foam grip on the soldering iron handle for added comfort during extended periods of use.
Wattage
The WES51 offers a wattage of 40W, making it suitable for a range of soldering tasks. The Weller WES51 is a reliable and easy-to-use option for both beginners and experienced users alike. Its heavy-duty heating element, temperature control capabilities, and durable design make it a great choice for any soldering project.
Adjustable Tips
The WES51 also comes with an assortment of interchangeable tips, making it versatile for various soldering needs. The Weller WES51 is a solid choice for those in search of a reliable analog soldering station.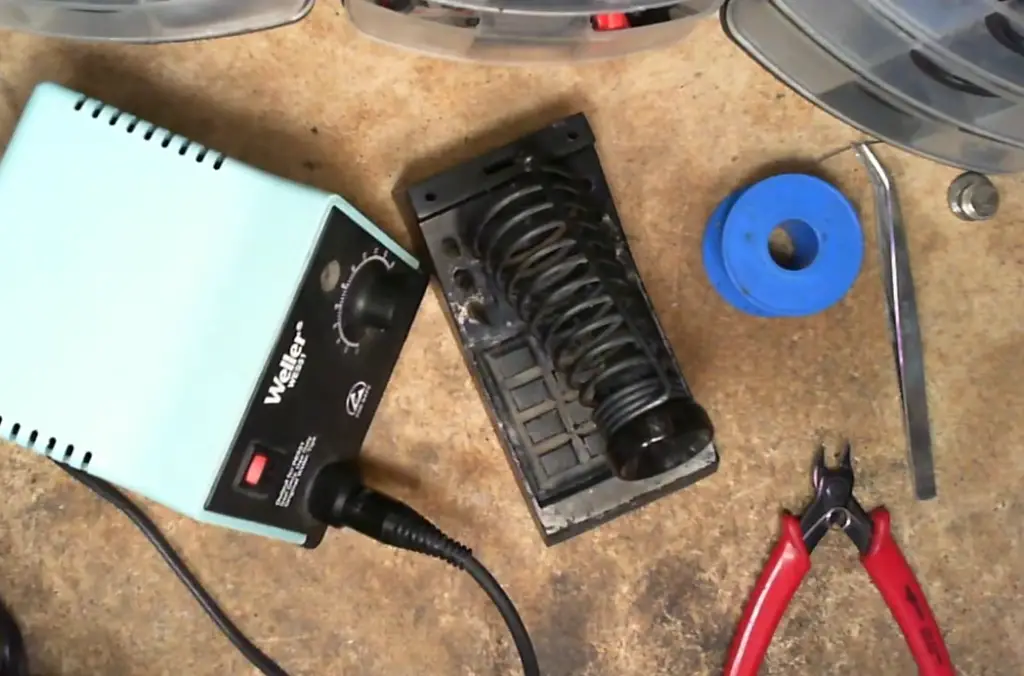 User-Friendly Controls
The WES51 has user-friendly controls, including a dial for adjusting temperature and an on/off switch with a power indicator light. The station also includes a built-in holder for the soldering iron, adding to its ease of use. It is a great option for those in need of a sturdy and easy-to-use analog soldering station.
FAQ
Can Weller WES51 be used by soldering enthusiasts and beginner hobbyists?
The Weller WLC100 is a better iron than I used for over 15 years. It will most certainly get the job done.
What size tip comes with the Weller WES51 station?
It comes with a 47-850 ETA Screwdriver Tip, 1/16″. You can use any "ET" series tips with it.
What does the term "analog" indicate for this Weller WES51?
It indicates that it does not have a digital display. Digital readings are measured in decimal increments. Analog readings are displayed on a meter. As meters are more expensive, the analog units do not come with any readout display. For a digital display, you need the WESD51.
Is there a heat gun that can adapt to Weller WES51?
After using the Weller WES51 for several months, we can confidently say that it is a reliable and durable soldering station. The temperature control dial allows for precise adjustments, and the iron heats up quickly. The ceramic heating element ensures a long lifespan for the station. We highly recommend this soldering station to anyone in need of a reliable tool for their projects.
Can Weller WES51 be used for small circuit boards in drones?
Yes, just buy appropriate-sized tips – several diameters are made in a variety of shapes. And pair it with a small-diameter solder as well.
What is the longevity of the WES51?
The ceramic heating element in the station ensures a long lifespan for the tool. We have been using ours for several months without any issues or malfunctions. It is a durable and reliable soldering station.​
Is a soldering station better than a soldering iron?
In short, yes. A soldering station allows for precise temperature control and often includes additional features such as a stand and cleaning sponge.
The Weller WES51 Analog Soldering Station is a popular option in the world of hobbyist and professional soldering. Its adjustable knob allows for easy temperature adjustment, up to a maximum of 900°F.
One feature that sets the WES51 apart from other soldering stations is its slim design and lightweight, making it easy to transport and store. It also includes a built-in holder for the iron, keeping your work area organized.
Does Weller make good soldering irons?
Based on our experience with the Weller WES51 Analog Soldering Station, the answer is a resounding yes. This soldering station offers a wide temperature range, precise control over heat settings, and a comfortable handle for extended use.
We particularly appreciate the built-in safety features of this soldering station, including an automatic shut-off timer and a see-through cover over the heating element.
Overall, we highly recommend the Weller WES51 Analog Soldering Station for anyone in need of a reliable and safe soldering iron.
How many watts is a good soldering iron?
There is no one answer to this question as it really depends on the individual project and the preference of the user.
The Weller WES51 Analog Soldering Station offers a 50-watt iron, making it a good choice for those looking for a reliable and powerful option.
In terms of ease of use, the temperature dial on the WES51 allows for quick and accurate adjustments. The included iron stand is sturdy and keeps the hot tip safely contained when not in use.
One downside to note is that the tip does tend to get dirty fairly quickly, so regular cleaning may be necessary to maintain optimal performance. Overall, the Weller WES51 is a solid choice for those in need of a reliable and powerful soldering iron.
Who makes Weller soldering irons?
Weller soldering irons are manufactured by Cooper Tools, a subsidiary of Apex Tool Group. Cooper Tools also produces tools under the brands Campbell, Crescent, and Xcelite.
The Weller WES51 has an adjustable temperature dial ranging from 350 degrees to 850 degrees Fahrenheit, a replaceable and heat-resistant silicone cable, and a power indicator light. It also includes a stand with a cleaning sponge to keep the iron tip clean during use.
Are Weller and Hakko tips interchangeable?
The short answer is no, they are not interchangeable. While the tips may physically fit into the other brand's soldering station, they will not function properly and may even damage the station. It is important to always use the correct brand of tip for your soldering station to ensure safe and effective use.
That being said, there are some third-party brands that offer compatible tips for both Weller and Hakko stations. These alternatives can often be a more affordable option, but it is important to do thorough research and make sure they are high quality before purchasing. Ultimately, using the proper brand's tips will provide the best results.
How do you clean a Weller soldering iron?
To clean the soldering iron tip, first, turn off and unplug the station. Then, use a damp sponge to wipe off any excess solder on the tip.
Next, apply a small amount of solder onto the tip and wipe it off with the damp sponge again to remove any residue.
Finally, apply a bit of soldering tip tinner/activator onto a clean section of the damp sponge and use it to polish the tip until it shines. It's important to regularly clean and maintain your soldering iron tip in order to ensure optimal performance.
Is a higher-wattage soldering iron better?
It depends on the project you are working on. Generally speaking, a higher-wattage soldering iron heats up faster and maintains heat better, making it useful for larger or more complex projects. However, for smaller or delicate projects, a lower-wattage soldering iron may work just as well and prevent accidentally melting or damaging the materials.
The Weller WES51 Analog Soldering Station offers adjustable temperature control from 350 to 850 degrees Fahrenheit, with a maximum wattage of 50 watts. This makes it suitable for a wide range of projects and allows for precise temperature control.
In terms of usability, the Weller WES51 has an ergonomic design that is comfortable to use for extended periods of time.
How many watts do you need for a soldering gun?
There is no one set answer to this question as it depends on the specifics of your project and materials. Generally, soldering guns have a higher wattage than soldering irons (typically 40-200 watts) and are used for larger projects that require more heat. However, always use the lowest wattage necessary for your project to avoid damaging materials or causing harm to yourself.
Are Yihua soldering stations good?
This is a matter of personal preference and also depends on the specific model of the Yihua soldering station. In general, Yihua is a reliable and well-known brand in the soldering industry, and its products have generally positive reviews from users. As with any tool or equipment, it's important to do your research and choose the right model for your needs.
Useful Video: Weller WES51 Soldering Station