Small form-factor (SFF) desktop computers have been growing in popularity for a few years now. This is mainly because they offer a lot of features and performance in a compact package.
In this article, we will answer some common questions about the Intel NUC 11 Pro and provide a full product review. We will also include some useful tips to help you get the most out of this little computer!
What is The Intel NUC 11 Pro
Small form factor PCs, such as the Intel NUC 11 Pro, are designed to maximize computing power while also minimizing their physical footprint.
They're ideal for users who need powerful machines that they can fit into small spaces or office environments. These devices feature cutting-edge components and often come with a variety of ports and expansion options to increase the flexibility of their use.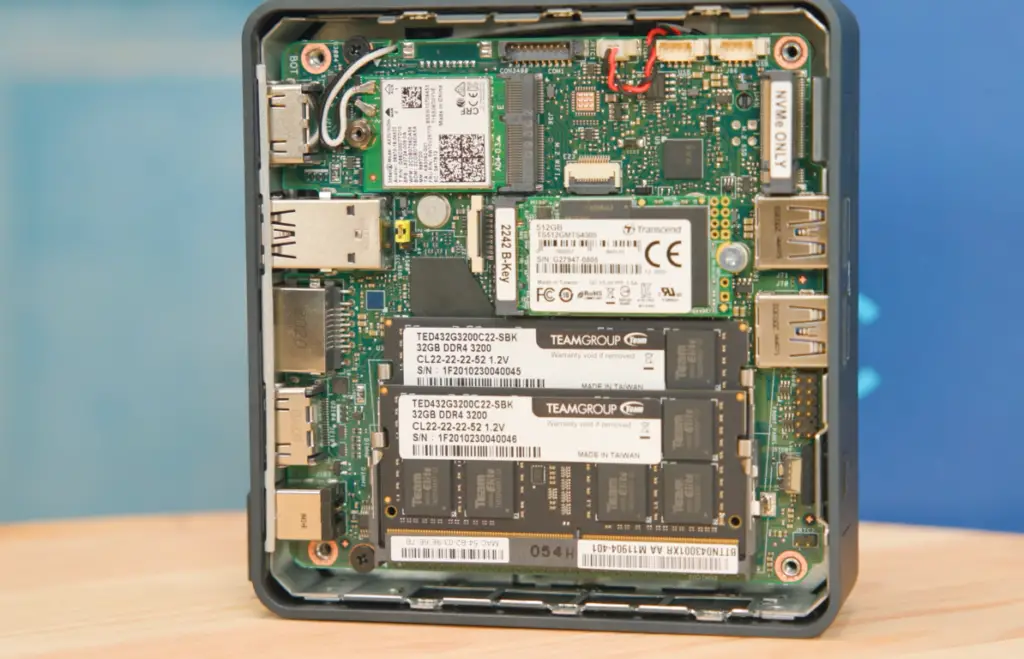 Intel is a leader in the computer technology industry that is most well-known for its processors. It was founded by Robert Noyce and Gordon Moore in 1968, and since then it has become one of the world's largest semiconductor chip makers. Intel produces a wide range of products, including processors, graphics cards, motherboards, memory modules, and more.
The company has been at the forefront of several revolutions within the computing industry – such as the invention of microprocessors in 1971 and their continual development over time to make computers faster and more powerful. They have also been involved in advancing artificial intelligence (AI) technologies with their deep learning frameworks and processor architecture designs.
The Intel NUC 11 Pro is a high-performance, small form factor mini PC that packs powerful features into a compact package. Powered by the 5th generation Intel Core processors (0.9GHz-2.4GHz Intel Core i5-1135G7) and expandable memory capacity of up to 64GB DDR4 RAM, the Intel NUC 11 Pro offers fast performance to keep your tasks running smoothly. With up to 1TB storage capacity and integrated graphics solutions, it's perfect for creating content or enjoying media on multiple displays. Additionally, the NUC 11 Pro supports dual-channel Wi-Fi 6 and Bluetooth 5.0 for ultra-fast wireless connectivity and is also compatible with Intel Optane Memory for faster start times and quick application execution. And it has a variety of ports too, more on that later.
The Intel NUC 11 Pro is designed to fit virtually any budget and lifestyle, as it offers a range of configurations in terms of performance, memory capacity, storage size, graphics solution and more. Whether you're looking for a powerful mini PC for gaming or content creation or just need something small enough to stow away on your desk without taking up too much space, the Intel NUC 11 Pro has you covered. [1], [2], [3], [4], [5], [6]
Intel NUC 11 Pro Performance and Usage
Now that we've gone over the basics of the Intel NUC 11 Pro, let's dive into performance and usage. Generally, Intel resells their NUC 11 Pros with no RAM and it's all up to you to make sure you and the seller get the right hardware for your desired workload.
Yes, when it comes to upgradability – the Intel NUC 11 Pro is fully customizable. You can upgrade the RAM (up to 64GB), storage (up to 1TB of SSDs).
This makes it perfect for medium gaming, image/video editing, or any other task that requires a powerful CPU and plenty of RAM.
But why would you use a NUC instead of a PC or a laptop?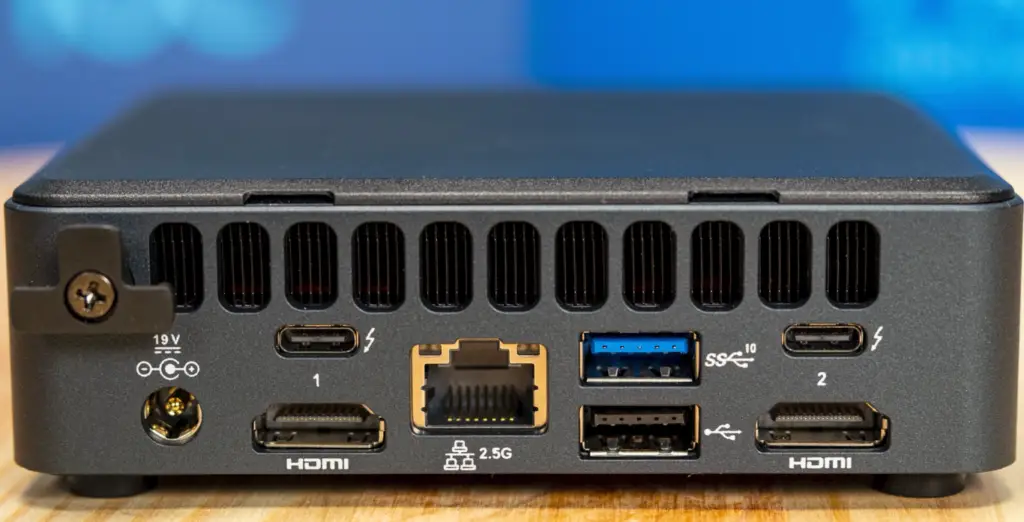 The Intel NUC 11 Pro is a powerful device that offers flexibility and convenience. It's small enough to fit in the palm of your hand, yet it packs some serious power. You can use it as a personal computer, media center, or gaming machine – all in one compact unit.
For business users, the Intel NUC 11 Pro provides portability and versatility with its ultra-small form factor. It's perfect for corporate environments where space is at a premium. With four USB ports, dual HDMI outputs, Ethernet port and Wi-Fi connectivity, you get extensive connectivity options to connect peripherals like printers, projectors and more.
You can also install multiple operating systems on the NUC 11 Pro. With the Intel NUC 11 Pro, you can run Windows 10, Ubuntu Linux, or macOS – making it perfect for developers who need to test and run different applications on different operating systems.
If you're a media enthusiast looking for a powerful media center device, the Intel NUC 11 Pro is just what you need. It runs ultra-smoothly and its powerful processor ensures you get crisp visuals with minimal lag time. You can also easily connect it to your TV or home entertainment system thanks to its dual HDMI outputs – giving you full control of your media library without having to turn on your PC or laptop every time.
The Intel NUC 11 Pro is perfect for game emulation too. While you shouldn't expect it to run modern AAA titles at full settings, its powerful processor enables you to play older or indie titles smoothly.
And it's a great tool for schools as well. The NUC 11 Pro makes it easy to set up classroom computers with minimal downtime, and its small form factor means you can set up a full-fledged computer lab without taking up too much space. [1], [2], [3], [4], [5], [6]
Intel NUC 11 Pro Design
Design matters a lot when it comes to mini PCs, and the Intel NUC 11 Pro definitely doesn't disappoint. It's a sleek, highly polished device that looks much more elegant than its predecessor. The exterior is made of a strong plastic casing with a matte black finish, and at just 4.5 inches thick, it's one of the slimmest devices you can get from Intel.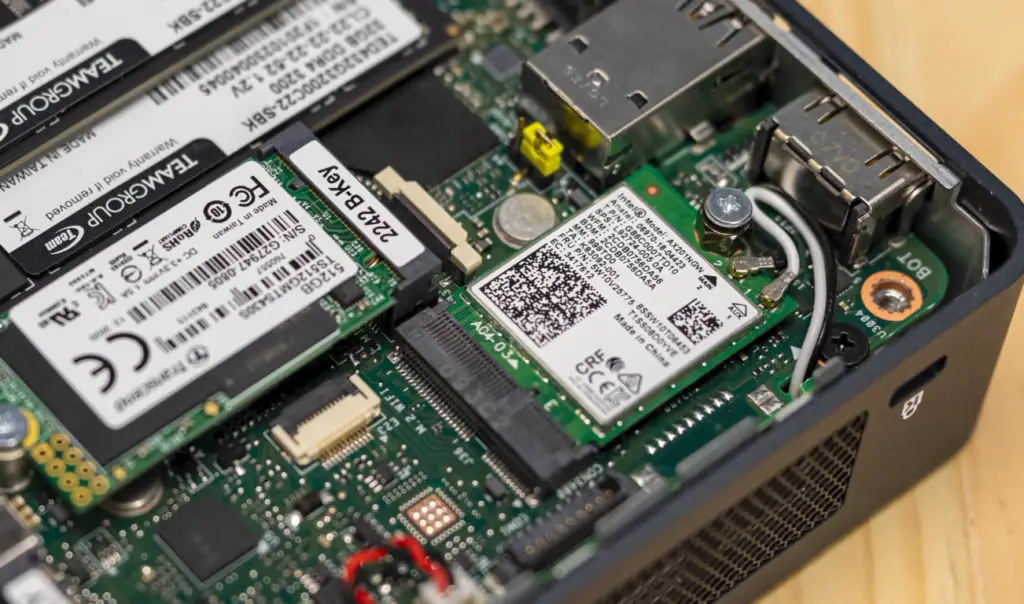 This is the main reason why someone would consider a NUC 11 Pro over other small form factor computers, as the small footprint makes it perfect for cramped workspaces. [1], [2], [3], [4], [5], [6]
Intel NUC 11 Pro Ports
For a small form factor PC, ports are an essential component. Without access to the right ports, your new device will be vastly underpowered and limited in its potential. Fortunately, the Intel NUC 11 Pro is well equipped with various different ports for connecting all kinds of devices.
The rear panel of the Intel NUC 11 Pro features three USB 3.2 Gen 2 ports and a single USB 2.0. The Intel NUC 11 Pro is also equipped with two Thunderbolt ports, making it an ideal choice for those who need to connect and transfer large amounts of data at high speeds. With the help of this port, users can take advantage of the fast data transfer speeds offered by Thunderbolt-enabled devices, including storage devices and even displays. Aside from faster performance, one of the biggest advantages of having a Thunderbolt port is its versatility.
Having these different connection options available makes the Intel NUC 11 Pro a great choice for those who need to perform tasks such as editing videos or transferring large amounts of data quickly.
The Intel NUC 11 Pro is also equipped with two HDMI ports, making it capable of outputting 4K resolution video at up to 60Hz and providing support for HDR (High Dynamic Range) content. This makes the NUC 11 Pro an ideal choice for those looking to take advantage of the latest technological advancements in video streaming and gaming. The two HDMI ports mean that users can connect two separate displays to the NUC 11 Pro, allowing for a multi-monitor setup or a more immersive gaming experience. The HDMI 2.0 port also supports HDCP 2.2 digital content protection, meaning you can stream 4K movies from services like Netflix without any issues.
The addition of an HDMI port on the Intel NUC 11 Pro is essential for connecting external devices such as Blu-ray players, streaming media boxes and other equipment with HDMI output capabilities. It's also important when it comes to hooking up sound bars and surround sound systems, as many of these now feature HDMI connections in order to pass audio through them alongside video signals.
Overall, the ports selection of the Intel NUC 11 Pro will easily cover most basic needs while still providing enough room to grow with future peripherals and accessories. It is clear that Intel has put a lot of thought into making sure this small form factor PC offers all the necessary features without sacrificing performance in any way.
Networking
With Intel NUC 11 Pro, you have access to a great range of connectivity options that can help you set up a powerful network.
One essential feature is the onboard Ethernet port, which allows the NUC to connect directly to your router. This makes it easy to use internet-based services such as streaming media or file sharing. The Ethernet works at 2.5Gbps, giving you plenty of bandwidth for most applications.
And of course we couldn't not mention a dual band WiFi card. It provides an incredible range of coverage, even in dense urban areas. With 802.11ac support, you'll get incredibly high speeds so you can enjoy fast downloads and streaming without lag or buffering.
Bluetooth 5.1 is also included, offering a reliable connection between devices such as headphones, keyboards and mice. The Bluetooth connection allows for faster data transfer rate than regular Bluetooth 4.2 while consuming less power.
All these features make it easy to create a powerful and efficient network with Intel NUC 11 Pro – essentials if you're looking to get the most out of your computing setup. [1], [2], [3], [4], [5], [6]
Intel NUC 11 Pro Advantages
Now it's time to go discuss some of the advantages of owning an Intel NUC 11 Pro.
Small form factor
The Intel NUC 11 Pro is an especially attractive option for those who need a powerful computing solution but don't want the bulk or expense of a full-sized desktop. The compact and light design of the Intel NUC 11 Pro makes it perfect for small spaces, such as dorms or apartments, and its size also makes it portable enough to move between locations.
And its design is pretty slick too. The sleek, white chassis and low-profile design make it a great addition to any workspace. It also doesn't produce too much noise, even when pushed to its limit during intensive activities like gaming or video editing.
Solid CPU for all its worth
The CPU controls how quickly and efficiently your system can run, and it will affect every aspect of its performance.
It's therefore essential to have the right CPU for your needs – one that is powerful enough to handle the tasks you need it to do without being too expensive or consuming too much power. This is even more important when choosing a mini PC such as the Intel NUC 11 Pro, as there's no room to upgrade in future if needed.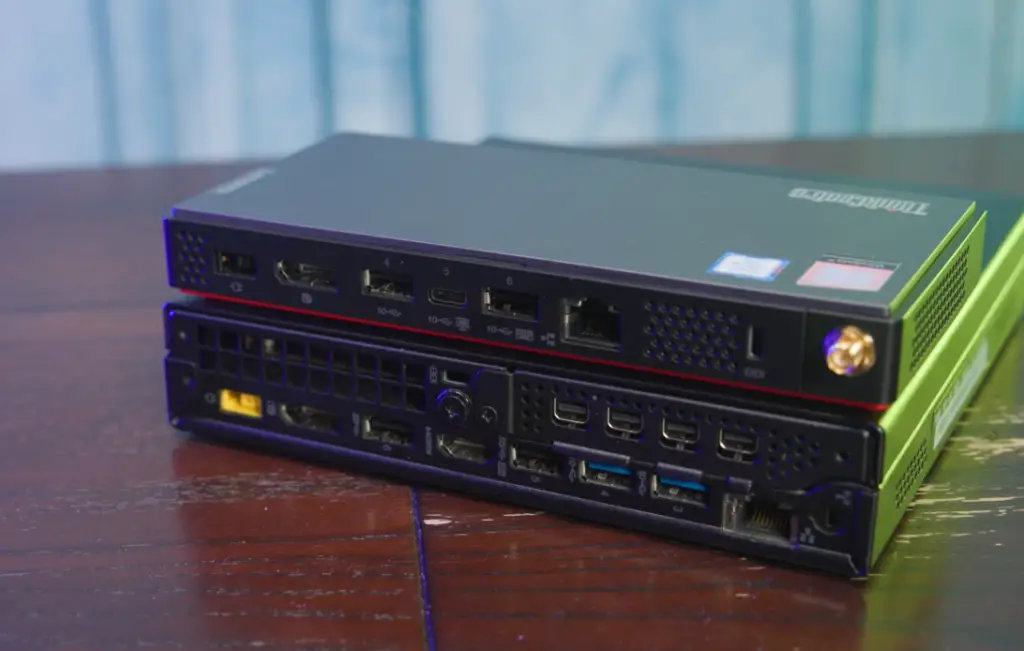 Luckily, the Intel NUC 11 Pro comes with a powerful Intel Core i5-1135G7 processor. This is a quad-core processor with a base clock speed of 2.4GHz, making it one of the best processors for its size and price range.
The Intel NUC 11 Pro also has an integrated Intel Iris Xe Max graphics card, which is a powerful option for those who need to run intensive tasks like medium gaming or video editing. This GPU also supports up to 4K resolution at 60fps and can handle most modern games with ease.
Impressive connectivity options
The Intel NUC 11 Pro has an impressive array of connectivity options. As we highlighted already, it comes with two Thunderbolt 4 ports, three USB 3.2 ports, one USB 2.0 port, a MicroSD card reader, and a double HDMI port for connecting to external displays or other media devices.
It also has an Ethernet port for wired network connections, as well as built-in Dual Band Wi-Fi (802.11ax) and Bluetooth 5.2 wireless networking capabilities. This means you can easily connect to the internet and use all your devices without any issue whatsoever.
It can support up to four displays at the same time
If you need to multitask like a pro, the Intel NUC 11 Pro can help. Thanks to its dual HDMI ports and Thunderbolt 4 ports, it can support up to four displays at the same time. This is especially useful for those who need to work across multiple monitors or manage several applications at once.
This feature also makes it perfect for video editing or gaming, as you can use one of your external displays as a dedicated monitor while using the other three for displaying different elements such as timelines or game facts in real-time. [1], [3], [6]
Intel NUC 11 Pro Disadvantages
Sadly, not everything is perfect and that includes the Intel NUC 11 Pro. Here are some of the biggest drawbacks to consider before purchasing it.
Pricey
Although the Intel NUC 11 Pro isn't as expensive by itself as a pre-built desktop computer, the cost can quickly add up. With no RAM, storage, or OS included with the purchase of the NUC 11 Pro, you'll be shelling out quite a bit more than the base price if you want to get it fully set up.
Different sellers may present you with different prices, so make sure to compare different listings and shop around before you commit.
Not powerful enough for games
The Intel NUC 11 Pro may be able to run some modern games, but it still isn't powerful enough to handle intensive gaming. So if you are hoping to use it as a portable gaming device, it's probably not the best solution.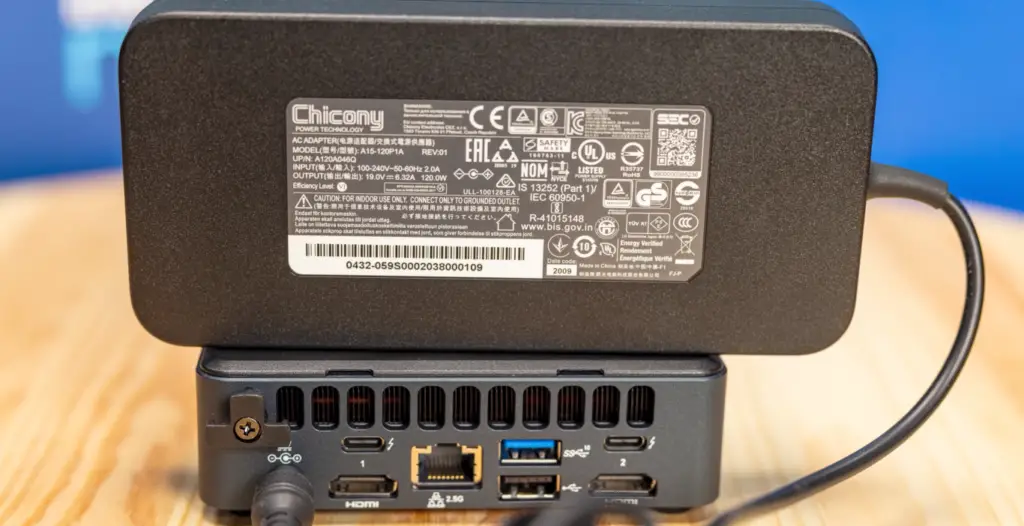 This is due to the fact that the computer doesn't come with a dedicated graphics card, making it unable to run high-end games. Additionally, the processor included in the NUC 11 Pro is not powerful enough for gaming either. [1], [3], [6]
FAQ
What are the Intel NUC series exactly?
The Intel NUC (Next Unit of Computing) is a small form factor PC that is designed to provide power and performance in a tiny package. The Intel NUC series includes four categories of systems which are based on the recent generations of Intel Core processors. The main purpose behind the NUC series is to provide a powerful, yet easily upgradable and portable system that can be used for a variety of purposes. The NUC has become popular among those who want to build their own custom gaming PC or use the device as a home media center.
Are NUC series worth more than a laptop or a PC?
While they may not be able to match the performance or capabilities of a laptop or PC, they make up for it with their flexibility. They can be used as a desktop, media center, gaming rig, or even an office computer. Plus, depending on your needs and budget, you can choose from a variety of different configurations with varying degrees of hardware specifications.
For many users who want something portable but with enough power to handle basic tasks, the NUC series of PCs are well worth considering. They offer a great combination of portability, flexibility and performance for a fraction of the price of a laptop or PC. Plus, you have the advantage of being able to customize your system according to your needs.
Is Intel NUC discontinued?
While older models of Intel NUC are discontinued, the Intel NUC 11 Pro is still in production and available for purchase. The Intel NUC 11 Pro still shows solid performance even when compared to more expensive models, earning it a great reputation. The Intel NUC 11 Pro is equipped with an impressive Intel Core i5-1135G7 processor, Intel Iris Xe Graphics, up to 64GB of RAM and 1TB of storage. It has two Thunderbolt 4 ports which support data transfer speeds of up to 40Gbps, making it suitable for high-end gaming and productivity tasks. And many more things too!
Is the NUC 11 good for gaming?
While the Intel NUC 11 Pro is not designed specifically for gaming, it does have the power to run some medium intensive games with decent frame rates. The processor in the NUC 11 Pro is an Intel Core Intel Core i5-1135G7 which has a base frequency of 2.4GHz. The processor is also equipped with Intel Iris Xe graphics, which allows for some decent gaming performance in lower-end titles such as League of Legends. In addition, the NUC 11 Pro has plenty of RAM and storage options available if you need more power for more intense gaming sessions.
However, it should be noted that the NUC 11 Pro isn't really designed for heavy gaming and may struggle with modern AAA games like Call of Duty: Modern Warfare or Cyberpunk 2077 unless you are willing to add a dedicated GPU. It is best suited for casual gamers who just want to play low-intensity titles from time to time.
Useful Video: Next-Gen Intel NUC 11 Pro Review (NUC11TNKi5)
Conclusion
Intel NUCs are a great choice for those who want a small form-factor PC that is powerful and reliable. The Intel NUC 11 Pro is an excellent option as it offers plenty of processor power, with the Intel Core i5-1135G7, and Iris Xe graphics. It also offers plenty of memory, storage, and I/O connectivity for all your needs. And we mean it! It has two Thunderbolt 4 ports, three USB 3.2 Gen 2 Type-A ports, one USB 2.0 port and two HDMI output ports that support 4K resolution.
It also comes with a built-in Wifi and Bluetooth 5.1, and has optional vPro for remote management. Finally, it is also one of the most reliable NUCs in terms of its cooling system – a fanless design with integrated heat sinks that keep things cool without any noise.
Just keep in mind that this machine won't carry modern AAA games well, as it is not designed for gaming. And it is pretty pricey all things considered since you may have to upgrade some of the components to get the best performance.
But if you're looking for a small form-factor PC that is powerful enough to take on your daily tasks while remaining relatively small and quiet, then the Intel NUC 11 Pro is definitely worth considering. It offers plenty of power, features, and reliability that make it an excellent choice for those who want to get their work done quickly and easily. So if you're looking for a small yet powerful PC capable of doing anything from streaming movies to mid-tier gaming or working in creative applications, then this might just be the perfect choice for you. Thanks for reading!
References
https://www.storagereview.com/review/intel-nuc-11-pro-tiger-canyon-review
https://www.intel.com/content/www/us/en/products/details/nuc/mini-pcs/products.html
https://www.servethehome.com/intel-nuc-11-pro-review-tiger-canyon-nuc11tnki5/
https://www.itpro.co.uk/hardware/359396/intel-nuc-11-pro-review-tiny-feature-packed-and-effective
https://www.pcmag.com/reviews/intel-nuc-11-pro-kit-nuc11tnki5-tiger-canyon
https://www.gadgets360.com/laptops/reviews/intel-nuc-11-pro-nuc11tnki5-review-india-mini-pc-price-performance-tiger-lake-11th-gen-2502519