This article will give you a full overview of the Khadas VIM4, including its features and specifications. We'll also answer some common questions about this product, and provide some tips on how to get started with it. So, if you're interested in learning more about the Khadas VIM4, read on!
Overview of Khadas VIM4
Single board computers are designed to provide computing power for a variety of tasks without taking up much space. They're usually built around an integrated circuit, or IC, and come in many different form factors, ranging from the size of a credit card to as small as a business card. The most popular types of single board computers are Raspberry Pi and Khadas VIM4.
The Raspberry Pi is the most common type of single board computer, and it's used in a variety of projects ranging from robotics to home automation. It has a powerful processor, lots of RAM and an HDMI port for connecting to a monitor or TV. The Khadas VIM4 is slightly different, as it packs more computing power than the Raspberry Pi and can run various operating systems including Android or Linux.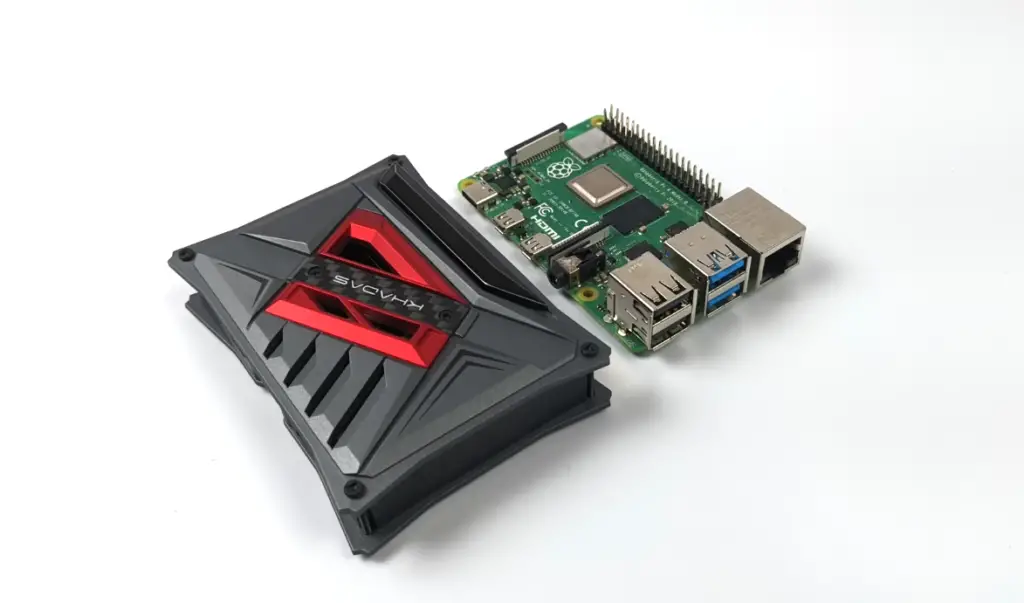 The Khadas VIM4 is the latest flagship single board computer from Khadas. This powerful device packs a punch with its octa-core Amlogic A311D2 processor, 8GB of RAM, and a Mali G51 GPU. All this provides impressive performance for video streaming, game emulation, media editing and more.
In addition to its great hardware specs, the VIM4 also offers plenty of connectivity options such as USB Type-C ports, onboard Wi-Fi, Bluetooth 5.0 and Gigabit Ethernet. With these features you can easily connect accessories or set up a full home media center setup without any issues.
The software side of the equation is handled by Android which allows users to access the Google Play Store and other popular apps. It also supports Linux distributions such as Ubuntu and Arch Linux, allowing users to customize their experience even further. [1], [2], [3]
Features
Now that we've gone over the basics, let's take an in-depth look at some of the features offered by the Khadas VIM4.
Amlogic A311D2 Main Processor
It is the heart of any computer, controlling how efficiently tasks are completed and how advanced a device's capabilities can be.
When it comes to choosing a processor for your SBC, there are many factors that need to be taken into account. These include processor architecture, clock speed, core count, memory type and size, thermal design power(TDP), cache size and graphics processing unit (GPU).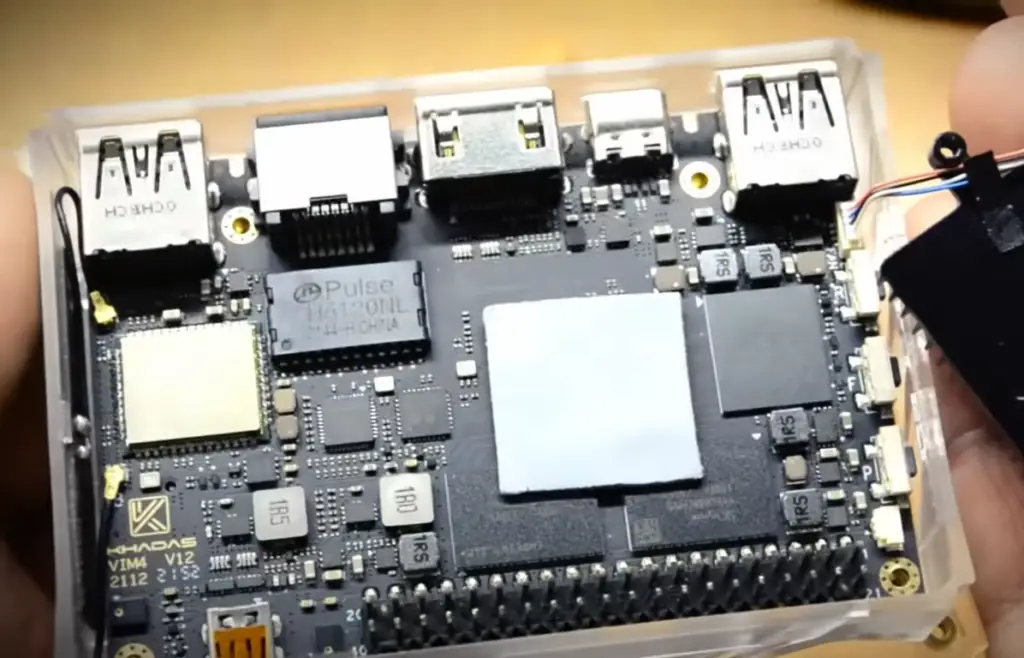 So as you can see, the main processor is one of the most important components of any single board computer, and the Khadas VIM4 doesn't disappoint in this regard. It features an Amlogic A311D2 octa-core Cortex processor clocked at up to 2.0GHz, allowing it to handle tasks such as video streaming, game emulation and more with ease.
Dual Microphone Input
The Khadas VIM4 is also equipped with dual microphone input, allowing you to capture sound from two separate sources. This feature can be used for all sorts of audio-related tasks such as recording podcasts, live streaming and more.
The dual microphone inputs are designed to be compatible with both 3.5mm and USB Type-C microphones giving you plenty of options when it comes to capturing audio. The mic preamp is adjustable as well, so you can fine tune the settings for the best possible recordings.
HDMI Input
The VIM4 also features an HDMI input, which is a great feature for users who want to use their SBC as part of a home entertainment system. For those unfamiliar with HDMI input, here's what it does: It allows you to use a compatible device—like a laptop, desktop computer, or even gaming console—and plug its HDMI output into the Khadas VIM4's HDMI port. From there, the connected device can be used as an extended monitor for your SBC, allowing you to use it as a larger display. This is especially useful for running multiple applications at once, or when working with complex tasks like video editing or graphic design.
And what's more, Khadas allows the users to enjoy the shows in a 4K resolution at up to 60fps, making it a perfect choice for those who are looking for an immersive multimedia experience.
OOWOW Remote Management System
The OOWOW Remote Management System (RMS) is a powerful and easy-to-use platform for remotely managing and monitoring your Khadas VIM4. It allows you to access the device from any web browser with an internet connection, giving you complete control over all its features such as monitor settings, CPU frequency, memory allocation and more.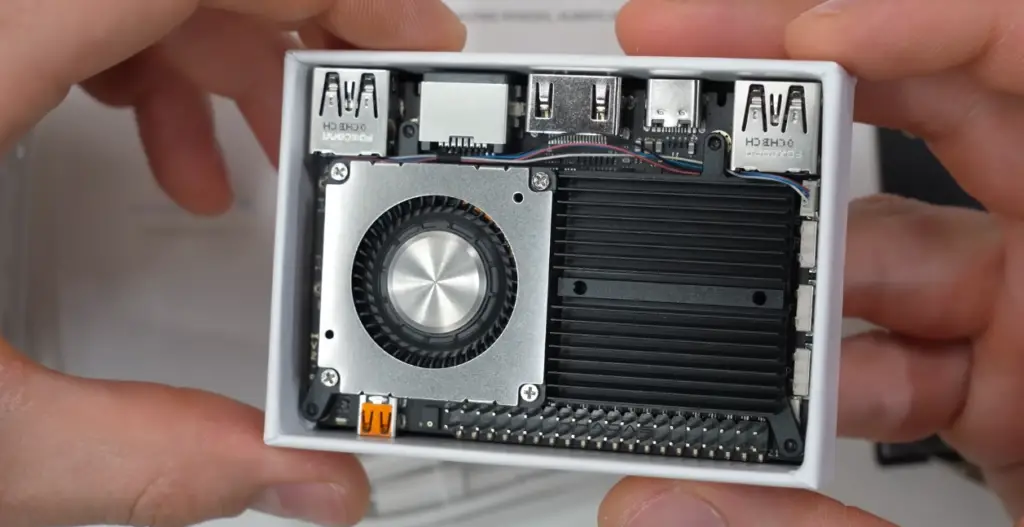 It also provides detailed reports on the performance of your SBC so that you can keep track of how your device is performing over time. This can be useful if you are looking to increase performance or troubleshoot any issues that may arise. The system even includes a custom OS image feature which allows you to customize the default Android installation by adding additional software of your choice.
Onboard Storage
Finally, the Khadas VIM4 includes eMMC onboard storage of up to 32GB. This allows you to store all your apps and media locally, eliminating the need for an external hard drive or cloud storage.
The eMMC storage on board the Khadas VIM4 plays an important role in its performance. As a single-board computer, it functions similarly to a laptop or desktop PC, but with much smaller components and physical space. The eMMC is no exception as one of these small components that helps to make the Khadas VIM4 such a powerful little machine.
It's designed specifically for embedded systems like cell phones and single board computers, which require faster read/write speeds than regular USB flash drives are able to provide.
The eMMC storage on the VIM4 also takes advantage of UFS 5.1 (Universal Flash Storage) technology, which allows for even faster data transfer rates than those offered by more traditional SD cards or USB flash drives. This makes it well-suited for applications that require fast access to large files, such as video editing or gaming.
The board also supports micro SD cards, giving you the option to expand your storage capacity even more if necessary. This makes it easy to keep large amounts of data on hand without having to worry about running out of space. [1], [2], [3]
Connectivity
Next, let's talk about the connectivity options available on the VIM4. It has all the ports you need to connect external peripherals such as monitors, keyboards, mice and more. There are two USB 3.0 ports, two USB 2.0 ports and a microSD card slot for storage expansion. As we previously mentioned, the board also comes with a HDMI port for most video output requirements.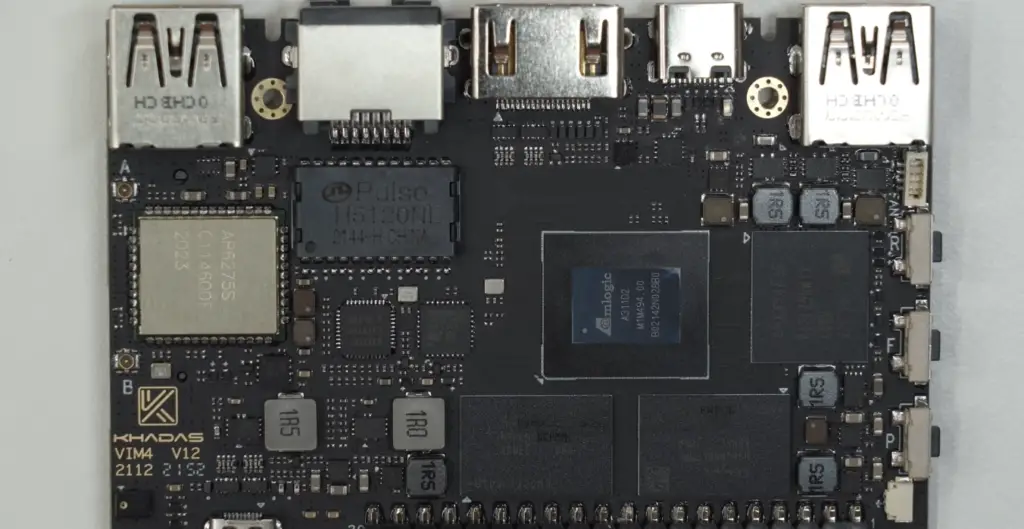 The VIM4 also has an impressive range of wireless connectivity options, including 802.11a/b/g/n/ac/ax and Bluetooth 5.0 support. Thanks to the Bluetooth connection, you can easily pair devices such as headphones, speakers and more with the board for great audio quality.
The VIM4 also supports Gigabit Ethernet network which allows users to connect to a wired or wireless network without any issues and enjoy speeds up to 1Gbps. This is great for streaming media or transferring files over a network quickly and efficiently.
And of course, we couldn't not mention the GPIO and UART ports that come with the board. The GPIOs (General-Purpose Input/Output) are a set of digital signals that can be used to control external devices, while the UART port (Universal Asynchronous Receiver/Transmitter) is mainly used for serial communication between two devices. These ports are great for connecting and controlling various types of sensors and robotics projects.
Overall, there's no doubt that the Khadas VIM4 offers a wide array of connectivity options for most requirements – making it one of the most powerful single board computers currently available on the market.
Unfortunately, what we noticed was the lack of Raspberry Pi compatibility even with the presence of a 40-pin GPIO header. This is something that some users may be looking for, so it's worth mentioning. So, you will have to use a Linux terminal to access the board.
But, other than that, the range of connectivity options available on the VIM4 make it well worth considering for your next project. Whether you're looking to build a home media server or a more complicated robotics project, the Khadas VIM4 is definitely up to the task! [1], [2], [3]
Addons
A plenty of single board computers come with various addons that can be used to boost their performance. The Khadas VIM4, while not being an exception, doesn't have as many of them as some other models.
For example, there is an option of purchasing a VIM4 heatsink to keep the board cool and running at peak performance even during long hours of usage. This is especially great for people who intend to use the board for more intensive tasks that require higher clock speed or extended periods of operation.
The VIM4 also has a 4G LTE module that can be purchased separately. This module allows users to access the internet anytime, anywhere – even when they're traveling. It's a great way to keep connected and stay productive wherever you go!
Lastly, there are also various cases available for the VIM4 that help keep it safe from dust and scratches while making it look good too. While not mandatory, these add ons can definitely enhance your experience with the board in several ways. [2]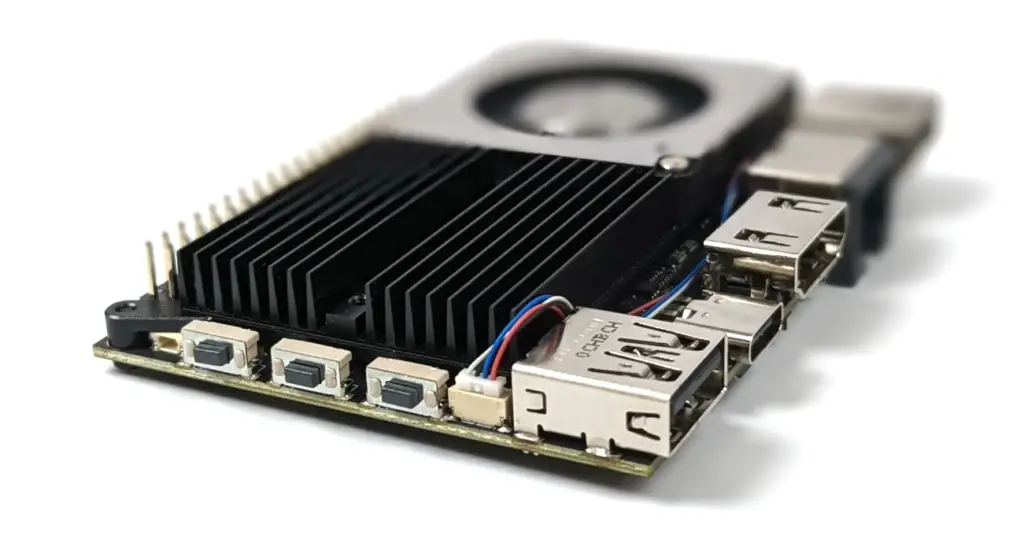 Price
When it comes to a single board computer, one the most important factors for DIYs is price. Not only does the cost of the product influence its overall performance, but it also plays a role in determining what kind of features you can expect from the device.
The Khadas VIM4 comes at a much higher price than its counterparts, being a $220 single board computer, but the added cost comes with a much more powerful processor and graphics capabilities. The VIM4 employs an Amlogic A311D ARM Cortex-A73 / -A53 processor and a Mali G52 MP8 GPU to give you plenty of power while keeping costs low. [1], [2], [3]
Pros and Cons
Now that we've covered the hardware and price, it's time to take a second look at the pros and cons of this single board computer. 've taken a closer look at the Khadas VIM4. It's time to summarize the pros and cons of this particular single board computer.
Advantages
One of the most powerful SBCs out there
It's powered by an Amlogic A311D2 processor with 8GB of RAM and 32GB of onboard storage, making it capable of running multiple applications at once without any noticeable lag or slowdown. The combination makes this an ideal device for more demanding tasks like gaming, video editing, or streaming media.
Superior Android performance
The VIM4 also has superior Android performance compared to other SBC's. It runs the latest version of Android and comes with a variety of powerful apps, making it easy to use even for those who are unfamiliar with the platform. The device is also compatible with popular applications like Netflix, Hulu, and more.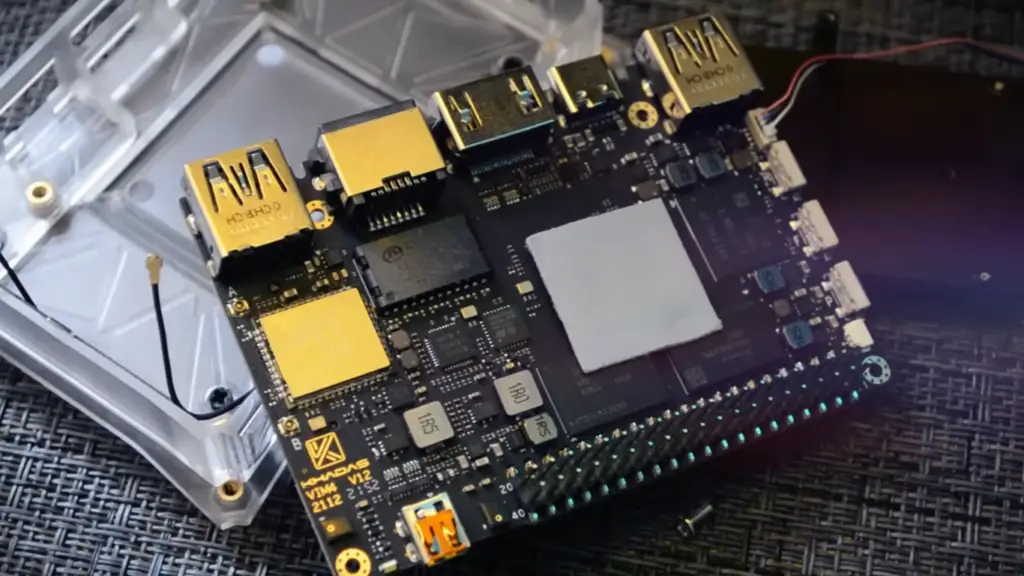 Comes with eMMC onboard storage
The VIM4 also features onboard 32GB eMMC storage, which is faster than the more common microSD cards. This makes it a great device for those who want to store larger amounts of data or stream media without any delays.
Disadvantages
Still, there's no perfect device. The VIM4 has a few downsides that buyers should keep in mind before purchasing.
Relatively high price
The Khadas VIM4 is one of the more expensive single board computers on the market, with a price tag of around $220 USD. Although this is still cheaper than most laptops or desktop PCs, it can be a bit steep for those looking for an affordable computing solution.
Lack of Raspberry Pi HATs support
While the Khadas VIM4 offers plenty of powerful features and performance, it doesn't support Raspberry Pi HATs. This means that users won't be able to use popular Raspberry Pi accessories like the Sense HAT or Camera Module.
So is this SBC right for you? Check out our conclusion below! [1], [2], [3]
FAQ
Is the Khadas VIM4 compatible with Android?
Yes, the Khadas VIM4 is compatible with Android. This single board computer features a powerful octa-core processor, making it an ideal platform for running Android applications. With all other of its features, users can easily install their favorite Android apps and customize the device for their specific needs. Additionally, the built-in HDMI 2.0 port allows you to connect the device directly to a monitor or TV for a full desktop experience powered by Android 10.
What are the benefits of using the Khadas VIM4?
The Khadas VIM4 is a powerful single-board computer that offers an impressive range of features. It is equipped with an Amlogic A311D2 octa-core processor, 8GB LPDDR4 RAM and 32GB eMMC 5.1 storage, making it highly capable for many types of data processing tasks.
The board also supports multiple operating systems such as Ubuntu, Android 9 Pie and OpenELEC out of the box, giving users a great deal of flexibility when setting up their computing environment. Furthermore, the VIM4 comes with USB 3.0 and USB 2.0 ports, Gigabit Ethernet port and a GPIO header for connecting additional hardware devices or shields.
What is Khadas?
Khadas is a Chinese company that designs and manufactures powerful single board computers (SBCs) for makers, hobbyists, and professionals. Their flagship product line is the Khadas VIM series of SBCs, which are powered by Amlogic processors with up to 4 cores. The Khadas VIM4 is the latest version in this lineup and boasts impressive specs such as an octa-core Amlogic A311D2 processor clocked at 2.2GHz, Mali-G52 GPU, 8GB of LPDDR4 RAM, 32GB eMMC storage, four USB ports, mic connector, Wi-Fi 5/Bluetooth 5.0 support, Gigabit Ethernet, and a 40-pin GPIO connector. The board also has full support for Android, Debian Linux, Ubuntu, and Armbian operating systems.
Is Khadas worth it?
The Khadas VIM4 is a powerful single board computer designed for DIY enthusiasts and professionals alike. It's powered by an Amlogic A311D2, has 8GB of LPDDR4 RAM and 32GB of eMMC 5.1 storage, and comes with two USB 3.0 ports, one HDMI port, a card reader, 40-pin GPIO headers for IoT projects, as well as audio line out & mic jacks. All in all, it's quite the package!
If you're looking to build a server or media center PC, the VIM4 is a great choice. It offers fantastic performance and a wide range of connectivity options that make it ideal for all sorts of applications. Plus, with its Open Source support, you'll find plenty of custom ROMs available so you can tweak your setup to perfection.
Useful Video: Khadas VIM 4 First Look! Finally A New SBC With A Powerful 8 Core GPU!
Conclusion
So there you have it! The Khadas VIM4 is a powerful single board computer that can do a lot of great things. It has an impressive array of features, including 4K HDR video output, dual-band wireless capabilities, USB 3.0 ports, and much more.
With its high-end hardware and great software support, the VIM4 is an excellent choice for users looking to build their own media centers or computing systems. It can even handle gaming thanks to its powerful processor and large amount of RAM, eight gigs in total!
Where Khadas really shines is Android support. The VIM4 comes pre-loaded with the latest version of Android, giving end users access to all the apps and games they could want. Plus, it has tons of customization options for those who like to tinker around with their devices.
As impressive as it is, there are some trade-offs with the VIM4. It doesn't offer compatibility with Raspberry Pi accessories, and it's a bit pricier than other single board computers, coming at a price of around $220. But with its amazing hardware, great software support, and plenty of features for power users, the VIM4 is definitely worth considering if you're in the market for your first single board computer and don't mind spending extra money.
We hope this Khadas VIM4 review has been helpful in giving you an insight into what this powerful single board computer can do! Thank you for taking the time to read it through!
References
https://www.hackster.io/idreams/khadas-vim4-review-03e3ef
https://all3dp.com/2/khadas-vim4-review-specs/
https://www.tomshardware.com/reviews/khadas-vim4-review