Hakko is a leading manufacturer of soldering equipment for use in electronics manufacturing. Today, soldering experts are going to review one of their newest products – the Hakko FR-300. This product is revolutionary because it allows you to tin solder circuit boards quickly and safely without having to resort to dangerous chemicals like lead or flux-cored wire.
Hakko FR-300 Overview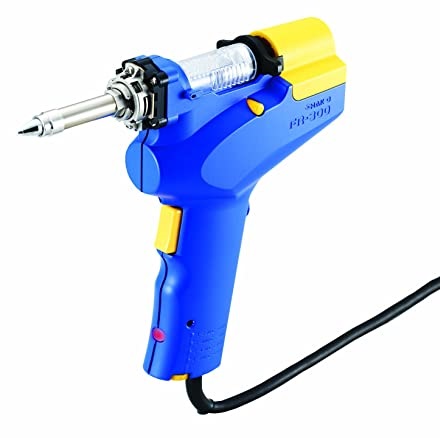 If you discover that your electronics are blowing caps or having bad switches, you may need a strong desoldering tool. The Hakko FR-300 might be the answer to all of these tedious desoldering projects.
---
Buyer's guide
Specifications:
The dimensions are 12.5 x 11.75 x 2.85 inches;
It weighs about 3.7 pounds;
O.E.M. authorized part;
It fits most U.S. Hakko models;
Nice blue color;
It is corded;
The wattage of this tool is 140 watts;
The voltage is 120 volts;
Main Features and Overview
Hakko FR300-05/P Desoldering Tool has an adjustable temperature range of 660-930 degrees Fahrenheit. Use this to remove solder from tight places with ease, making hard jobs easier than ever before.
This Hakko tool comes with a nozzle for catching the melted solder and it is easy to clean up after use so you can never lose any money thanks to wasted materials or time!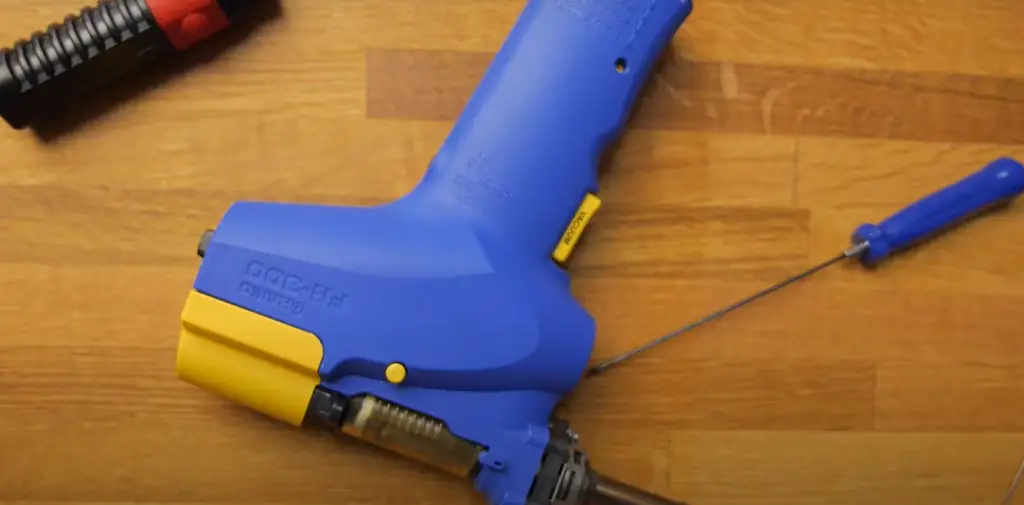 The built-in vacuum pump will consistently suck up every bit of your work so there's no risk in trying something harder than it ought to be because this kit will have your back!
Plus, its low vibration means that you won't be putting too much strain on your arm while working which is nice if you're not used to soldering.
Design
This Hakko tool is lightweight and portable. The design is quite simple yet efficient.
This desoldering device has an N61 nozzle with a heating element, filter pipe, and pump cover. The ergonomic handle is easy and convenient to grip.
The handle includes such elements as a trigger, power switch, LED lamp, and temperature control knob.
Performance
Cleaning is simple since it "loads" somewhat like a real weapon. You pull back a "chamber", remove the cartridge, and knock it out with a nudge of your arm. Then you replace everything as normal.
Here is how you should use the Hakko FR-300 tool:
Use a soldering iron to apply the heat to the PCB. Some desoldering pumps come with built-in soldering rods, allowing them to double as both soldering and desoldering tools;
The plunger is put under pressure by pushing it lightly;
Then the solder liquefies because of the heat produced in the procedure. After that, the pump is placed on the soldered junction to begin the extraction process;
The plunger is released once it has been placed correctly. If a solder sucker has a release button, you don't have to keep pressing it throughout the procedure;
Simply press it and you're done with the releasing portion of the job;
Remove the soldering from the PCB or circuit board and deposit it in the sucker. As a result, you'll need to extract the freed solder from the pump now. The user may be required to suck out the soldering procedure several times depending on his or her demands;
It's not tough to clean the solder off of the pump after it's been removed. To clean the sucking tool, press down and release the plunger continuously;
Because the solder is in a globular state because of liquefaction, it may come off more than necessary. As a result, extra solder is needed to make up for the shortfall.
Alternatives to Hakko FR-300 desoldering unit:
HAKKO FR301 Portable Desoldering Tool
For individuals who are used to manual pump sucking, the solder removal tool is a game-changer. This tool includes convenient adjustable temperature control and is available in three colors: white, blue, and red.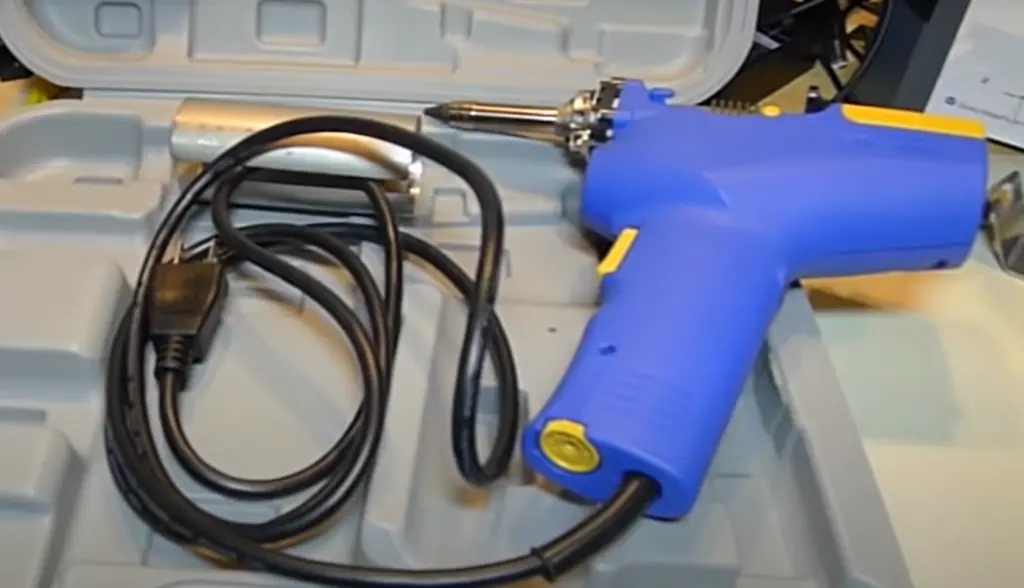 Components are completely removed, with no ragged traces. The collection chamber for solders is simple to clean because it comes with a cleaning pin and replacement filters included in the package.
YIHUA 948 Desoldering Station
A versatile, high-quality desoldering station with a vacuum desoldering gun. It makes removing chips a breeze. This gadget uses a stable nozzle temperature and strong suction to guarantee consistent solder removal with just one hand. You can either clean or replace the filter tube, depending on how quickly you apply it.
Huanyu Desoldering Gun
The desoldering vacuum pump with strong suction power is included, making it the only desoldering iron on the list that includes a soldering iron and desoldering vacuum pump.
It's a silent electric desoldering tool with an anti-static housing that protects against static electricity damage for electronic components.
Pro Digital Vacuum Desoldering Station
The desoldering station is just for lead-free desoldering. It heats up rather quickly and is ideal for the mobile phone repair business, as well as precision electronic maintenance, plug-in components, and a variety of other applications.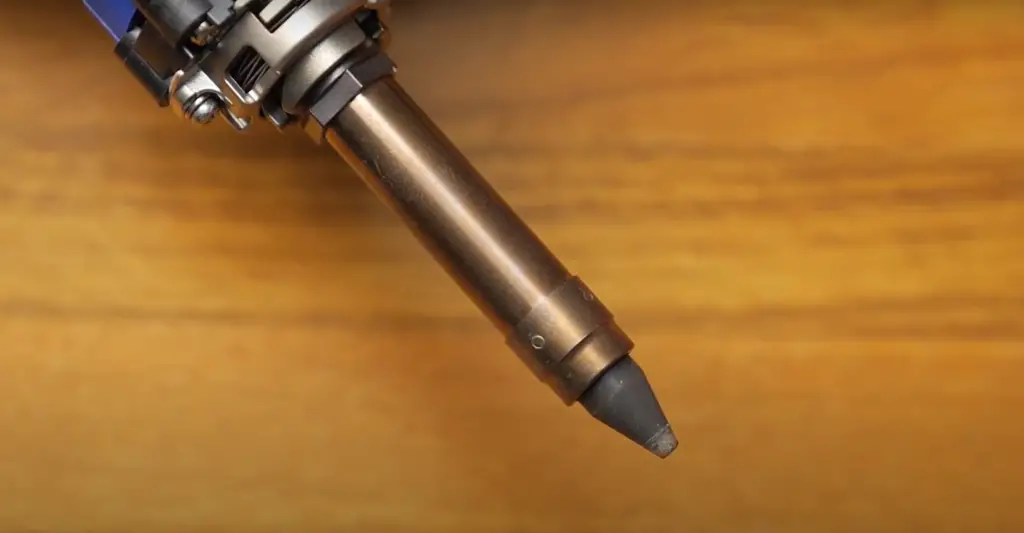 The package comes with a desoldering tool, a station, several spare tips, cleaning pins, and replaceable filters. It's critical to keep the glass tube clean. Nevertheless, it can get burning hot while you're handling it, so be cautious.
Aoyue 701A++ Dual Function Soldering and Desoldering Station
The desoldering/soldering tool can be used for through-hole component removal without causing damage to the board or warping. The smoke sucker is a fantastic addition, and it aids in the reduction of harmful smoke by keeping them at bay.
A desoldering iron with a long-life ceramic heating element and zero-crossing circuitry to prevent electrical surges is included, which is quite useful. The pump is quite quiet; just avoid gathering the big blobs of solder; it tends to clog the pick-up tube.
Hakko FR-300 Desoldering Tool Review
The Hakko FR-300 is a popular desoldering tool used by professionals and hobbyists alike. Below is a comparison table of various indicators that highlight its performance and features.
| Indicator | Description | Rating (out of 5) |
| --- | --- | --- |
| Heating Time | The time taken by the tool to reach the operating temperature. | 4.5 |
| Suction Power | The strength of suction power to remove solder from the joints. | 5 |
| Tip Compatibility | Number of compatible tips for different soldering tasks. | 4 |
| Build Quality | Overall durability and construction of the tool. | 4.8 |
| Ease of Use | How user-friendly and intuitive the tool is to operate. | 4.7 |
| Portability | The tool's weight and ease of carrying around. | 4.2 |
| Accessories | Availability and usefulness of included accessories. | 4.3 |
| Price | Value for money in comparison to other desoldering tools. | 4.6 |
The table provides an overview of the Hakko FR-300's key indicators. It excels in suction power, heating time, and build quality, making it efficient and durable. The range of compatible tips allows for versatile use. Additionally, its user-friendly design and well-rounded performance contribute to its popularity. Though slightly less portable compared to some other models, the Hakko FR-300 offers good value for money given its performance and included accessories.
Check more articles to improve your soldering skills:
---
FAQ
Does the Hakko FR300 desoldering tool come with any nozzles?
It doesn't have any extra nozzles. The included nozzle is the most frequently used size for motherboards.
Does this work with 220 volts?
Since it is made for the U.S. market, the tool is suitable only for 110 volts AC.
How many watts is the heating element?
According to the manufacturer's description on Amazon, the heating element (A5000) offers 140W/120V.
How long does it take to get fully heated and be able to be used?
Some users claim that it needs about 90 seconds to heat up fully.
Does this item come with the case, stand, and manual?
Always read the seller's description before buying. Some packages include a case, manual, tip, tip-cleaning tool. Others do not include anything but the tool itself. It never comes with a stand.
Does this model have a power cord and does not need an additional power supply?
Yes, after a few minutes, it will be ready to use. There are no more power cords or power supplies required. Ready to operate and perform as it is. Please keep in mind that this desoldering tool must be kept clean in order for it to function properly.
What are the reasons to use a Hakko desoldering gun?
Desoldering guns made by Hakko are much faster, easier to control, and more precise than other desoldering irons. Therefore it is the first choice for many technicians when removing components from PCBs without damaging surrounding parts.
How to clean a desoldering gun?
To clean the desoldering gun you need to disassemble it and remove all of the solder pieces from inside, then take a cotton swab or something similar and dip it in alcohol. Clean the copper tip carefully while wiping off any dirt, grime, oil, etc. After that re-attach everything back together again and you're good to go.
Is the Hakko FR-300 desoldering tool suitable for professional use?
Yes, the Hakko FR-300 desoldering tool is designed for professional use. It is a high-quality tool known for its reliability and performance, making it a popular choice among professionals in the electronics industry.
What type of desoldering tasks is the Hakko FR-300 tool best suited for?
The Hakko FR-300 desoldering tool is ideal for a wide range of desoldering tasks, including through-hole and surface mount components. It efficiently removes solder from circuit boards, making it useful for electronics repair and rework projects.
How does the Hakko FR-300 compare to other desoldering tools on the market?
Compared to other desoldering tools, the Hakko FR-300 stands out for its ergonomic design, ease of use, and quick heating time. It offers precise control, ensuring clean and efficient desoldering, which sets it apart from many competitors in the market.
What is the heating technology used in the Hakko FR-300 desoldering tool?
The Hakko FR-300 desoldering tool utilizes advanced ceramic heating technology. This ensures rapid and consistent heating, allowing users to start desoldering tasks quickly without long waiting times.
Does the Hakko FR-300 come with any safety features?
Yes, the Hakko FR-300 desoldering tool is equipped with various safety features. It has an automatic shutoff function that activates when the tool is not in use for a certain period, preventing overheating and extending its lifespan.
Can I easily replace the filters in the Hakko FR-300 desoldering tool?
Yes, the Hakko FR-300 is designed for easy filter replacement. The filters are readily accessible and can be changed without much hassle, ensuring the tool maintains its optimal performance over time.
Is the Hakko FR-300 compatible with different nozzle sizes?
Yes, the Hakko FR-300 desoldering tool is compatible with various nozzle sizes, offering versatility to tackle different desoldering tasks with precision.
Does the Hakko FR-300 have adjustable temperature settings?
Yes, the Hakko FR-300 desoldering tool features adjustable temperature settings, allowing users to fine-tune the temperature based on the specific requirements of their desoldering tasks.
What is the warranty period for the Hakko FR-300 desoldering tool?
The Hakko FR-300 desoldering tool typically comes with a 3-year warranty from the date of purchase, offering customers added peace of mind and protection against potential defects.
Useful Video: Hakko FR300 Desoldering Gun Review
Final thoughts
The Hakko FR300-05P is a powerful but quiet soldering tool that features an ergonomic grip and is great for beginners. It heats quickly with adjustable temperature, a low vibration, a practical recovery chamber, and is practically noiseless.
The FR300-05/P can be the perfect desoldering tool for all of your electronic needs! From its easy-to-clean recovery chamber to its decreased noise, this machine has it all. The adjustable temperature range allows you to choose between 660-930F so that every solder job can be completed easily.