The Hakko FX-100 Soldering System is a great tool for any DIY enthusiast or professional. This system is easy to use and very reliable. In this review, we will take a closer look at the features of the FX-100 and see how it stacks up against the competition.
One of the standout features of the FX-100 is its digital temperature control. With just a push of a button, you can easily adjust the temperature to your desired setting for various soldering tasks. The system also heats up quickly, saving you time in the long run.
Another great feature is the ergonomic design of the soldering iron. It fits comfortably in your hand and allows for precise handling during use.
The FX-100 also comes with a convenient stand that keeps your work area organized and prevents accidents from happening.
Looking for a quality soldering system? Then you should take a look at the Hakko FX-100. This system has many features that make it an ideal choice for any serious hobbyist or DIY enthusiast. In this review, we will take a close look at all of the features that make the Hakko FX-100 so popular. We will also discuss some of the pros and cons of using this system.
Specifications
The dimensions are 12.5 x 11.75 x 2.85 inches;
It weighs about 3.7 pounds;
O.E.M. authorized part;
It fits most U.S. Hakko models;
Nice blue color;
It is corded;
The wattage of this tool is 140 watts;
The voltage is 120 volts;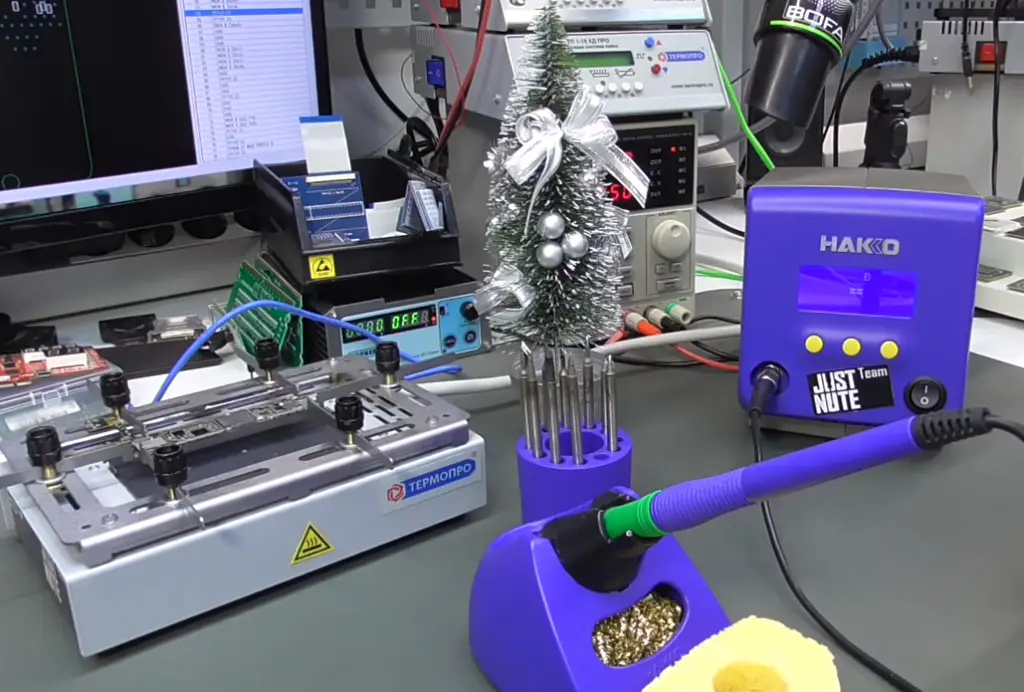 Design
The HAKKO FX-100 Soldering Station brings induction heating soldering technology to an even higher performance level. A small, compact, and very easy to use soldering station that uses an advanced system designed to optimize the output power to the soldering iron tip. With no loss of power in the form of heat within the soldering station, the FX-100 is designed for fast, reliable, accurate, and efficient soldering.
The HAKKO FX-100 Soldering Station includes an Auto Power Assist feature allowing it to recover faster and has a higher throughput than other soldering stations. Boost Mode allows for more power when needed, when working on solder joints that are grounded.
The HAKKO FX-100 Soldering Station also has the lowest EMI levels of all induction heating soldering stations and meets all applicable standards, especially for those working on extremely sensitive medical and aerospace applications. The FX-100 brings the quality, reliability, and power you've come to expect from HAKKO.
Performance
It functions quite differently by using induction heating. The heating element and the temperature regulation are actually contained within the soldering tips themselves. They use RF and curie point to heat and regulate temperature.
Basically, a high-frequency signal is sent into the tip. And the tip contains a metal that loses its magnetic field at a certain temperature. So the tip will continue to heat INSTANTLY until the magnetic field goes away, at which point it begins to cool.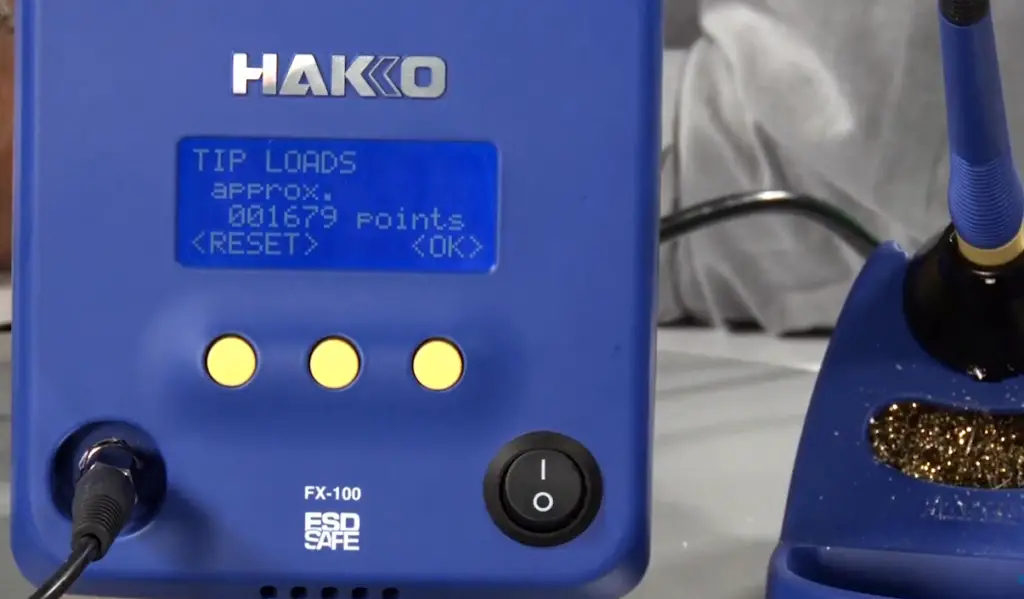 But then the field returns and it heats. Rinse/repeat a thousand times per second and you get a tip that stays at one temperature no matter what, without any fancy parts or sensors or heating elements to replace. Just a metal tip with a magnetic core that costs $17.
Pros:
Boost control provides some extra power;
Tip sleep function & password lockout;
Large backlit display & auto-power off;
No calibration required (at 13.56 MHz);
User profile for tip and solder selection;
Auto‐power off safety feature;
User programmable profiles for tip and solder selection;
Password lockout prevents unauthorized system setup changes;
Compact stackable case design minimizes the workbench footprint;
Large backlit display provides a clear and simple interface with the operator;
Ready in seconds;
Temperature automatically determined by tip;
Station automatically lowers heat when iron is stowed;
Can create user profiles;
Displays power output on the screen in bars;
Cons:
Expensive;
No adjustable temperature;
The stylus is a bit small;
Hakko FX-100 Soldering Station The new Hakko FX-100 soldering system features microprocessor control to boost the recovery performance of the iron, and an advanced system design optimizes output power to the soldering tip to prevent power loss. This small, compact station also has the lowest EMI levels of all induction heating stations, ideal for sensitive applications.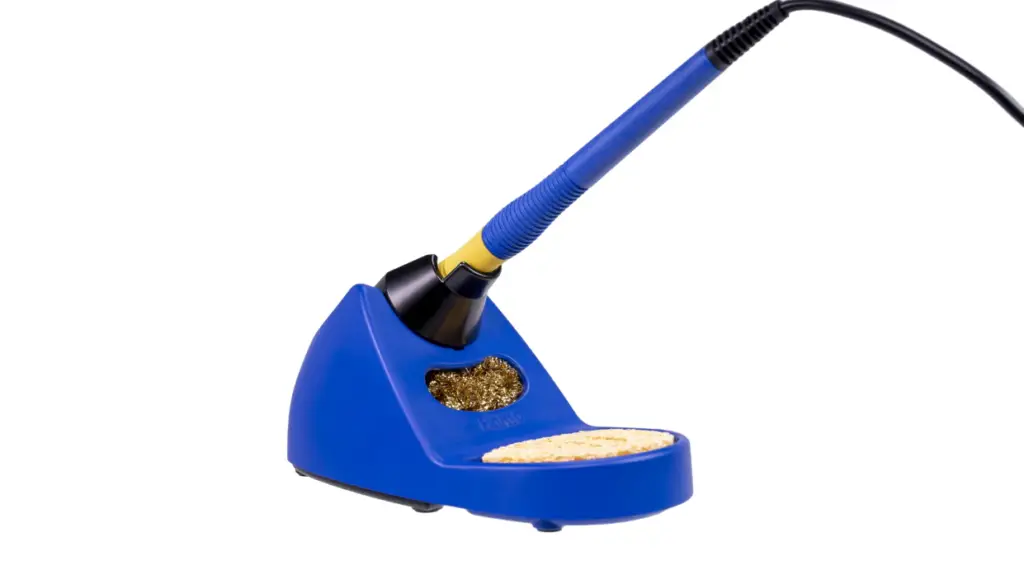 Uses T31 Series tips. Includes soldering station and iron, iron holder, heat-resistant pad, power cord, and iron grips. No calibration necessary.
Main Features
Wattage
Unlike resistance-based heating systems that control temperature by turning heater power on and off via a sensor, with an induction heating system the soldering tip itself produces heat and maintains a constant temperature, enabling a small soldering tip to handle high thermal capacity, high-density substrates.
With the FX100 Induction Heating Soldering Station or IH system, controlling the temperature of the soldering iron is easy.
Temperature setting control of the soldering iron is easier as the temperature is fixed with the various models in the soldering tip line up, unlike with conventional temperature setting systems. Whatever temperature is selected, it can be displayed on the LCD panel with simple button operations.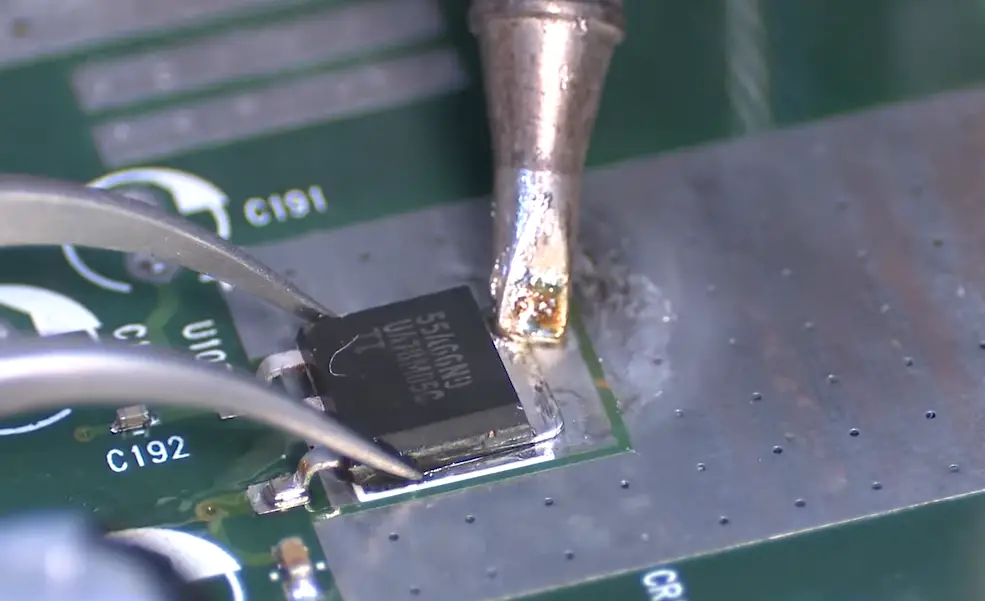 Temperature Control
Better thermal recovery using HAKKO's proprietary technology "Power Assist". It is best suited for soldering spots that are difficult to reach and for spots that require a lot of heat. It is easy to use soldering station with three-button operation. LCD display shows information about: wear on tips, duration of time for which the tip was powered and temperature type of the tip used for soldering.
Adjustable Tips
This function provides less temperature drop and improved thermal recovery when soldering. And if you need a bit more power for those challenging solder joints, just select "Boost Mode".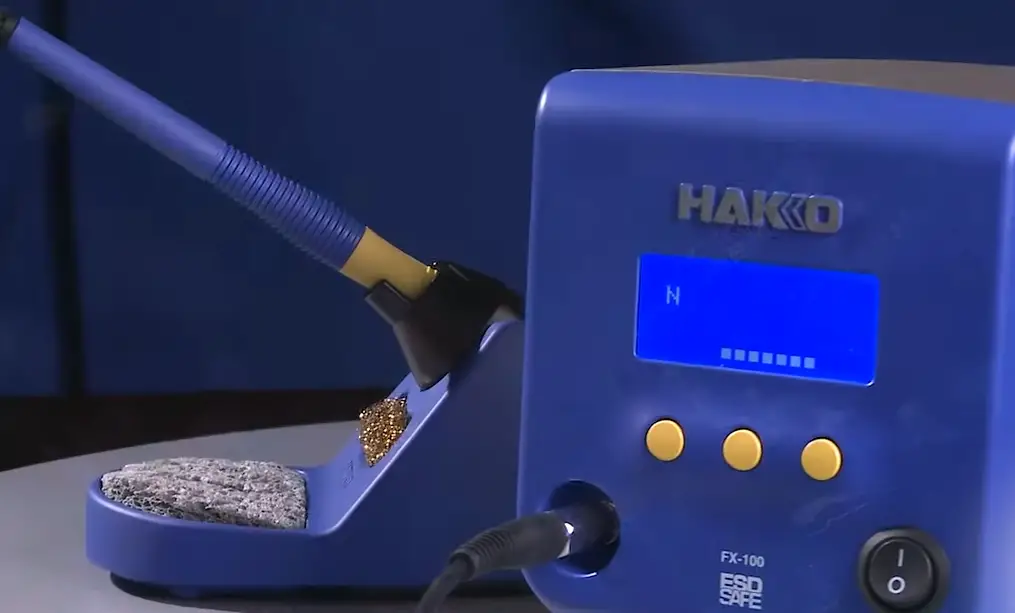 FAQ
What is the country of origin in which the Hakko FX-100 is manufactured?
It is made in Japan.
How hot does the Hakko FX-100 get?
It depends on the tip you are using. The tips have different temperature ratings. There are many different tips to use. This model soldering station uses RF induction heat technology. Whereas, the soldering tip controls the temperature.
Does the Hakko FX-100 come with tips included?
No, tips are sold separately.
What is the voltage for Hakko FX-100?
The recommended voltage is 120V.
How long do Hakko tips last?
According to user reviews, the tips on the Hakko FX-100 soldering system can last for months or even years with proper maintenance and care. However, it is important to regularly clean the tip and avoid using excessive heat as this can shorten its lifespan.
Overall, users rave about the longevity and durability of the Hakko tips. Many also praise the wide range of replacement tips available for this soldering system, making it easy to find a suitable option for any project.
Does it come with a stand?
No, the Hakko FX-100 does not come with a stand. However, there are many compatible third-party options available for purchase. Users recommend investing in a stand to properly hold the soldering iron when not in use and prevent accidental burns.
What is the temperature range?
Users also praise the quick heat-up time and precise temperature control of the system.
Do Hakko FX-100 soldering irons wear out?
The short answer is yes, like any soldering iron, the Hakko FX-100 will eventually wear out. However, users have reported that the FX-100 has a longer lifespan than other soldering irons on the market.
One important factor in extending the life of your soldering iron is proper maintenance and care. Keeping the tip clean and properly tinned can greatly extend its lifespan. Also, be sure to use the correct temperature setting for your particular project to avoid overheating and damaging the tip.
Overall, users have found that with proper care and maintenance, the Hakko FX-100 can last for years before needing to be replaced.
How do you keep a soldering iron tip from oxidizing?
One of the biggest factors in maintaining a clean, oxidization-free soldering iron tip is the temperature at which you use it. Keeping the tip at a constant, higher temperature helps prevent oxidation and prolongs its lifespan. Another important factor is using a wet sponge or brass wool to regularly clean and polish the tip while soldering.
The Hakko FX-100 Soldering System offers both of these features with its adjustable temperature control and included cleaning sponge. It also includes an automatic shut-off function for added safety.
In terms of performance, the FX-100 heats up quickly and maintains a steady temperature for efficient soldering. The ergonomic design makes it comfortable to hold and use for extended periods of time.
How do you clean a Hakko soldering iron?
The Hakko FX-100 soldering system comes with a detachable cleaning sponge, which can be used to clean the iron tip. It is recommended to periodically clean the tip by wiping it on the dampened sponge while the iron is hot. Additionally, if necessary, a special tip tinner and cleaner can be applied to restore and maintain the tip's surface.
Are copper soldering tips better?
The Hakko FX-100 Soldering System comes with copper soldering tips, which some users prefer over the traditional iron plated tips. Copper is known for its excellent heat conductivity and longer lifespan compared to iron plated tips.
However, it is important to note that copper tips require more maintenance as they oxidize faster and need to be cleaned regularly. Some users may also prefer the finer point and quicker heat recovery of iron plated tips. Ultimately, it comes down to personal preference and the type of projects being worked on.
Can you sharpen soldering iron tips for Hakko FX-100?
It is suggested to replace them regularly for optimal performance and safety. However, some users have reported successfully sharpening their soldering tips with a tip tinner and cleaner product. It is ultimately up to the user's discretion if they choose to sharpen the tips.
The Hakko FX-100 soldering system has received positive reviews for its quick heating capabilities and overall durability. The adjustable temperature settings allow for a wide range of projects, from delicate electronics to heavy-duty wiring jobs. Users appreciate its compact design and ease of use.
Is soldering hard to learn?
Not with the Hakko FX-100 Soldering System. This soldering station has intuitive controls, precise temperature adjustment, and a comfortable iron design that make it easy for beginners to pick up and experts to appreciate.
The LCD screen displays both the set and actual temperatures, as well as the easily adjustable knob for setting the desired temperature. The iron itself heats up quickly and maintains a steady temperature, allowing for consistent solder joints.
One of my favorite features of this soldering station is its compact design. It takes up minimal space on my workbench and can easily be transported for on-the-go soldering projects.
What are the 4 stages of soldering
Preparation – cleaning the solder and work pieces, applying flux;
Heating – using a soldering iron to heat up the joint;
Applying solder – adding the melted solder to the joint;
Cleaning – removing excess solder and inspecting the finished joint;
The Hakko FX-100 Soldering System offers a convenient all-in-one solution for these steps with its built-in air pump, temperature control, and cleaning sponge.
Is 30-watt soldering iron enough?
Many soldering professionals may scoff at the idea of a 30-watt soldering iron being enough for any job, but the Hakko FX-100 proves them wrong. This compact and lightweight soldering system packs a punch with its precise temperature control and fast heat-up time.
The included chisel tip has a pointed edge that allows for easy access in tight spaces, while the ceramic heating element ensures consistent heat and a long lifespan. The stand is also sturdy and stable, preventing any accidents with hot tools.
Is 60W soldering iron good?
The Hakko FX-100 soldering system comes with a 60W soldering iron, which is a standard wattage for soldering projects. In general, it's recommended to have a higher wattage for heavier-duty projects such as electronics or jewelry making, but for smaller and more delicate tasks, a lower wattage can work just fine.
Useful Video: Hakko FX-100 Induction Heat Soldering System by American Hakko
References
https://sumitron.com/product/hakko-fx-100-soldering-station/
https://hakkousa.com/fx-100-rf-induction-heating-soldering-system.html
https://www.rig-talk.com/forum/threads/soldering-iron-review-hakko-fx-888d-and-fx-100.198872/